Written by Councillor Hannah Dalton
Tuesday, 05 January 2016 11:25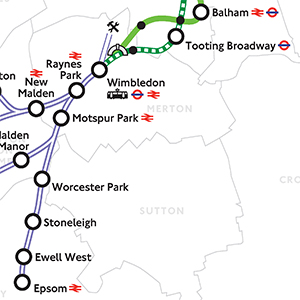 Have you had your say on Crossrail 2? PLEASE READ and RESPOND if you live in the consultation area!
The Consultation for Crossrail 2 is due to close on Friday 8 January 2016 and if you are a resident of Stoneleigh and Auriol who uses the train services, especially to commute, please ensure you take a look and leave your feedback.
Many are making the assumption that Crossrail 2 will mean increased capacity, a more regular service both peak and off peak and another route to other parts of London. However that does not seem to be the intention in the information posted as part of the consultation online.
If you refer to the 'Crossrail 2 fact sheet - Services between Worcester Park and Epsom' on page 1 there is a table showing the number of trains to Waterloo and of which will be Crossrail 2 services. The information seems to imply that there will no longer be trains running directly to Waterloo so people will have to change at either Raynes Park, Wimbledon or Clapham Junction for Vauxhall and Waterloo services. This will also to be the case with other regional branches. Whether these stations could cope with the extra capacity should be questioned.
Please click on the link below to review for the next stage of the Crossrail 2 consultations and the attached documents relating to the proposed scheme and Epsom branch, and leave your feedback before the deadline: