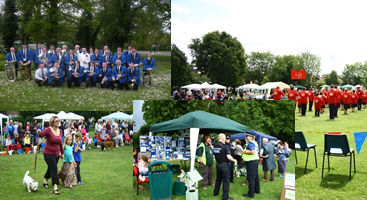 Saturday 28 June 2014
For many years St. Mary's Church has organized a successful and popular annual FUN DAY at Shadbolt Park, to raise funds for the Church. Having reviewed the resources required for such a big venture the Church Community decided to focus on fundraising events in their own grounds. This has been very successful for them over the last few years and we encourage you to continue to support their programme of events.
Over the last 70 years a community fair in Shadbolt Park has been a key feature in the summer calendar. Following many requests the Cuddington Residents' Association has agreed to fill the void with the SHADBOLT PARK'S BIG DAY OUT.
This event will take place at Shadbolt Park and Paddock on Saturday 28th June, 2014 between 12 noon and 4pm and will be opened by the Mayor and Mayoress of Epsom and Ewell, our very own Robert and Rosemary Foote.
In the Paddock there will be a main arena surrounded by stalls where our much loved dog competition, along with other entertainment and participative sports will take place. In the gated Shadbolt Park the extremely talented Epsom and Ewell Silver band will entertain throughout the afternoon where families can bring a chair or rug and enjoy a picnic. We will be remembering the start of the First World War and those attending can dress in the style of 1914.There will be prizes for the most authentic costumes worn. We also hope to present a memorial from the Community. The Friends of Shadbolt Park will be delighted to show you the magnificent Daylily Garden that is open for a limited period in the summer.
Invitations have been extended to all the emergency services, services and other organisations, businesses and charities that make Cuddington a great place to live and work. There will be lots of food, drink, ice creams, candy floss, chocolate fountains and all the other funs of the fair. So why not support this local event and meet your neighbours?
Funds raised will go to the participating Charities and organizations and will also provide an ongoing fund to ensure the annual event can continue in the future. To get involved, hire a stall, join the committee please contact This e-mail address is being protected from spambots. You need JavaScript enabled to view it
PLEASE SUPPORT THIS VERY LOCAL EVENT AND HAVE A GREAT DAY OUT ON 28 JUNE.