Friday, 18 January 2013 13:19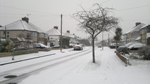 The winter weather predicted over the last few days has finally arrived, and Stoneleigh has been carpeted with a thick layer of snow. Schools have been closed and many residents have been forced to return home from work early, or not to travel in at all.
How are you coping with the snow? Please share your snow story!