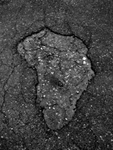 Surrey County Council are asking residents to help draw up a road repair hit list as part of a blitz on Surrey's worst roads.
The county council will use residents' suggestions to help create a list of streets most in need of repair. These will then be overhauled as part of a five-year blitz on tackling the root cause of potholes.
The busiest roads have already been fixed, and the Transport and Enivronment department now believe that 90% of Surrey's roads are in a decent condition. They are now looking at improving the remaining 10%, many of which will be smaller residential streets or country roads. Surrey County Council would like residents to help draw up a hit list of roads to prioritise for resurfacing.
The council's new approach involves planning road maintenance over five years, instead of the usual 12 months. This will provide better value for money because materials can be bought in bulk, meaning more roads can be improved for less money.
People will be able to nominate roads for repair and give their views at a series of roadshows being held in the coming weeks. To give your views, the roadshow hits Epsom and Ewell on Sunday 28 October at the Market Place, Epsom from 11am to 4pm. If you cannot attend, you can email your suggestion to This e-mail address is being protected from spambots. You need JavaScript enabled to view it .
For more information, visit Surrey County Council's highway information page or call 0300 200 1003.