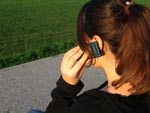 The new non-emergency telephone number - 101 - is proving a success in Surrey since its official launch on 1 September 2011.
More than 50 percent of the non-emergency calls coming into the Surrey Police contact centre are made by members of the public using 101 rather than the previous 0845 number.
The memorable 101 number has now been rolled out to all police forces across England and Wales and is expected to continue to aid the police in dealing with calls for help from the public.
101 costs 15p per call from both mobile phones and landlines, no matter how long the call lasts or what time of day it's made. Calls to 101 from telephone boxes are free.
As an alternative to 101 – a geographical number – 01483 571212 – is also available for those unable to use the 101 service (for example, if calling from abroad).
Chief Inspector Alison Barlow, from Surrey Police's Contact Centre, said: "On average Surrey Police receives around 350 emergency 999 calls a day but less than 20 percent of those require an emergency response from the police. You should only call 999 in a real emergency, for example when someone's life is in danger, a serious offence is in progress or someone is at risk of violence. For all other issues such as contacting police with a general enquiry or reporting minor crime or disorder the public should contact Surrey Police on the 101 number."
Minor crime can also be reported online, at a police station or at Surrey Police's mobile police office. For more details visit www.surrey.police.uk.